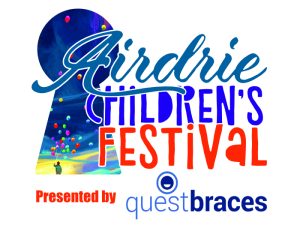 Airdrie, Alberta – The Airdrie Children's Festival Society (ACFS) is excited to announce their dates for 2022. Taking place May 28 and 29, the festival is excited to bring joy to inquiring young minds again.
After a two year hiatus the Festival is back this year, with Quest Braces as the new presenting sponsor. "This is a very exciting partnership for the festival," said Airdrie Children's Festival Society Board Chair Pete Lewis. "Dr. Mo and his team at Quest have an amazing reputation for being community contributors and we are excited to have them onboard as we relaunch after two years of festival cancellations."
"The Quest Braces team and I are incredibly excited to partner with the Airdrie Children's Festival as the presenting sponsor. We create beautiful healthy smiles for children all day everyday — the Children's Festival is a place where children have so much fun and we get to see all those beautiful smiles," said Dr. Mo Korayem.
"It's also a chance for us to give back to the Airdrie community, a community of our friends and neighbors that has been so incredibly gracious to us over the years."
The Airdrie Children's Festival was created to enrich the lives of children and celebrate cultural differences. Each aspect of the festival has a component to inspire creativity, create curiosity or remove fear while, of course, having fun!
"The board has been working to safely host the festival for the past two years and we are confident this year's event will be just as good, if not better, than previous," said board member Tara Levick. "We are excited to bring back something to Airdrie that we know the kids want and need."
The free festival will take place at Nose Creek Park in Airdrie and will feature a Children's Village play area, entertainment stage with great performances, Inspiration Stations to learn something new and workshops to expand knowledge. This festival would not be possible without the generous sponsorship support from the local business community and residents.
Media Contact
Tara Levick
Airdrie Children's Festival Society
marketing@airdriechildrensfest.com
403.612.1171
airdriechildrensfest.com